<!!!!!!!!! DO NOT USE THE WYSIWYG EDITOR WITH THE PAGE !!!!!!!!!!> <!!!!!!!!! THIS MEANS YOU NEIL !!!!!!!!!>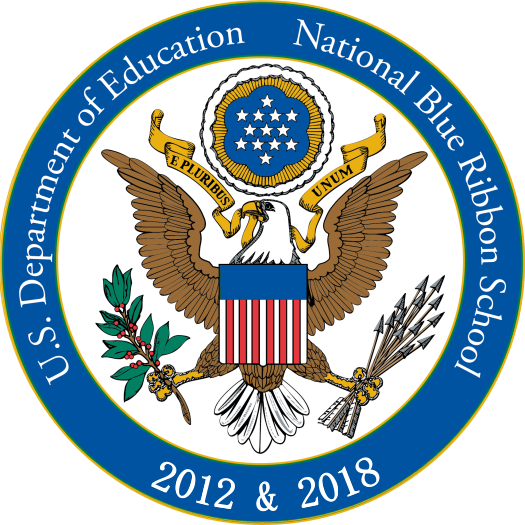 U.S. Department of Education Honors Saint Leo the Great School with Consecutive Blue Ribbon School of Excellence Awards
To view Saint Leo's Press Release, click here.
The Secretary of Education's announcement of Saint Leo the Great School can be viewed at the 10:52 mark of the 2018 Announcement video. Click here.
To view our 2018 National Blue Ribbon School Profile, click here.
Congratulations to our Saint Leo the Great Community – our students, faculty, staff, and parents – on receiving this coveted recognition!
A Message from the Principal
Thanksgiving season is upon us and we are grateful for all who have helped and continue to help make Saint Leo the Great School an outstanding place that provides a unique and exceptional learning experience for our students. We are especially blessed to be able to continue many traditions from over the past 50 years.
On November 8th, U.S. Secretary of Education Betsy DeVos recognized the 2018 National Blue Ribbon Schools at a ceremony in Washington, D.C. At that time, Saint Leo the Great School received a plaque and flag to signify our status as a 2018 National Blue Ribbon School of Academic Excellence.
On Wednesday, November 14th, the school community will celebrate a Mass in honor of our Patron, Saint Leo the Great, whose Feast Day is Saturday, November 10th. Immediately following the Mass, we will mark our wonderful achievement with the official raising of the Blue Ribbon Flag, and then further celebrate as a "Blue Ribbon" family with our traditional Turkey Feast.
Please note that the cafeteria is closed on Tuesday, November 13th to prepare for Wednesday's feast. Snack and lunch must be brought from home. For those parents who did not order the turkey meal in advance, lunch must be brought on Wednesday as well.
On Thursday, November 15th, "Blue Ribbon Bagels" will be available for purchase in the cafeteria. The half day schedule provides the perfect opportunity for this special lunch/snack.
To round out the week's activities, Friday November 16th is Blue Ribbon Shirt Day! Students will be invited to wear their Blue Ribbon Shirts for a celebratory group school picture and then, in the afternoon, cheer on the 8th graders for the annual 8th grade Football Game.
I hope you all enjoy the blessings of our Patron Saint, Saint Leo the Great. Happy Saint Leo the Great Day!
Sincerely,
Cornelius Begley
Principal
Upcoming Events
Tue Nov 20
Kindergarten Thanksgiving Prayer Service
No PM Care
Wed Nov 21
SCHOOL CLOSED
Thu Nov 22
SCHOOL CLOSED
Fri Nov 23
SCHOOL CLOSED
Tue Nov 27
Children's Corner
Wed Nov 28
Children's Corner
Thu Nov 29
Children's Corner
Fri Nov 30
"B Day"
12:30PM Dismissal
End of 1st Trimester
Sat Dec 1
PTA Christmas Bazaar (9:00AM-3:00PM)
Google/Ical Link